Events for Spring 2020
---
 Thursday 20th February from 7.00pm
Book Launch Event with Nuala Ellwood
---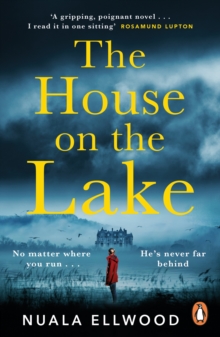 Join us at the launch of Nuala's third novel The House on The Lake. 
Lisa needs to disappear. And her friend's rambling old home in the wilds of Yorkshire seems like the perfect place. It's miles away from the closest town, and no one there knows her or her little boy, Joe.

But when a woman from the local village comes to visit them, Lisa realizes that she and Joe aren't as safe as she thought. What secrets have Rowan Isle House - and her friend - kept hidden all these years?And what will Lisa have to do to survive, when her past finally catches up with her?
Nuala is the author of two bestselling novels, My Sister's Bones and Day of the Accident. 
This is a free event please let us know if you are planning to attend so that we can ensure there is enough bubbly and celebratory cake to go round!
---
Tuesday 25th February from 7.00pm
Twelve Authors, in the library, with the lead pipe...
---
An opportunity not to be missed for Crime Fiction fans.
The legendary Orenda Roadshow is visiting Stockton Central Library on Tuesday 25th February.
Your chance to meet 12 acclaimed crime thriller writers during an evening of readings, discussion and Q&A about the world of crime fiction.
Tickets are £10 which includes a glass of wine or soft drink on arrival and £5.00 off the purchase of one book on the night.
---
Saturday 29th February from 7.00pm
An Evening with Giovanna Fletcher
---
We are delighted to bring Giovanna to ARC Stockton to celebrate the launch of her new book Letters on Motherhood.

From the author of number one bestselling Happy Mum, Happy Baby and the chart-topping podcast of the same name, comes a beautiful collection of heartfelt and deeply personal letters written to her three young sons Buzz, Buddy and Max, husband, Tom, and the family and friends who have inspired and supported her to become the mother that she is today.
Tickets are available from ARC - see below

Ticket price includes a free copy of Giovanna's new book Letters on Motherhood and Giovanna will be signing books on the night.

https://arconline.co.uk/whats-on/talks-and-discussions-special-events/an-evening-with-giovanna-fletcher
---
 Friday 13th March from 6:00pm
A Cooking Demo - taster and Q&A session with The Curry Guy - Dan Toombs
---
This was one of our favourite events of last year - and we're chuffed to bits that Dan has agreed to come back again to launch his 4th Curry Guy book with us
In Curry Guy Light, Dan Toombs, aka the Curry Guy, showcases over 100 recipes that are: Lower in carbs and calories than most other Indian recipes. Lower in fat and salt without lacking flavour. Delicious and fresh-tasting Dan has spent many years researching the food of Kerala and Goa, as well as learning the secrets of Indian restaurants. In Curry Guy Light he's developed a new, lighter version of his classic base sauce, and created lower-cal versions of curry house classics, including starters like onion bhajis and spicy hot chicken wings, indulgent Goan prawn curry, chicken tikka masala and saag paneer, your favourite sides such as tarka dhal and coconut rice, plus chutneys and snacks. All the recipes have clear, step-by-step instructions, and are guaranteed 100% delectable
Join us as Dan demonstrates one or two dishes and answers questions before signing copies of his latest book.
Tickets are £10, which include snacks on the night and £5 off Dan's new book.
Book here on Eventbrite or contact the shop