Next Meeting - 2:00pm Saturday 27th October 
Book to be reviewed - The Crooked Sixpence - Jennifer Bell

Welcome to a world where nothing is quite as it seems . . .

Dive head first into the world of Lundinor in this magical adventure story for anyone with a Hogwarts-shaped hole in their life. When their grandmother Sylvie is rushed to hospital, Ivy Sparrow and her annoying big brother Seb cannot imagine what adventure lies in store. Returning to Sylvie's house, they find it has been ransacked by unknown intruders - before a mysterious feather scratches an ominous message onto the kitchen wall.

A very strange policeman turns up on the scene, determined to apprehend them . . .with a toilet brush. Ivy and Seb make their escape - only to find themselves in a completely uncommon world, where ordinary objects have amazing powers. The forces of evil are closing in fast, and Ivy and Seb must get to the bottom of a family secret .. . before it's too late
The Boy Who Hit Play - Chloe Daykin
September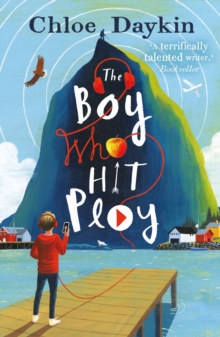 'It's time,' I say. 'For ... It.

Me. You. Us.

The bench. The zoo. The question.

Why?'The only thing that Elvis Crampton Lucas knows about where he's from is that he was found on the bench at a zoo. And that his now father took him home in a Stetson hat, and named him after the first three vinyl he picked off his shelf. But now, on his twelfth 'discovery day', it's time for Elvis to find out who left him at the zoo, and why?On an epic adventure that takes Elvis to an island off the coast of Norway, he will finally discover the truth about his past...
Sky Thieves - Dan Walker
July
Love Pirates of the Caribbean? Then prepared to be swept away by this new swashbuckling adventure series. Talented debut author, Dan Walker, creates an imaginative world where thieves sail the skies in flying galleons-an action-packed adventure of epic scale. Zoya DeLarose has no idea her life is about to change forever when a band of sky thieves 'steal' her away from her orphanage, landing up in the clouds, on board The Dragonfly's deck.
Ella On The Outside - Cath Howe
June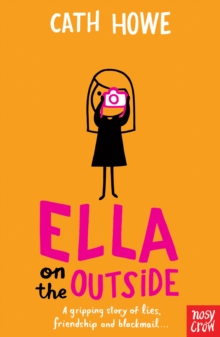 Ella is the new girl at school. She doesn't know anyone and she doesn't have any friends. And she has a terrible secret.
Ella can't believe her luck when Lydia, the most popular girl in school, decides to be her new best friend - but what does Lydia really want? And what does it all have to do with Molly, the quiet, shy girl who won't talk to anyone? A gripping story of lies, friendship, and blackmail...
Brightstorm - Vashti Hardy
May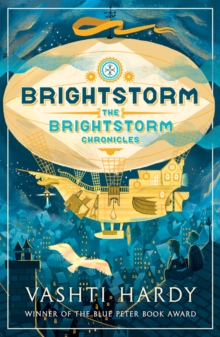 We were thrilled that author Vashti Hardy was able to join us via Skype and chat with the Young Bookworms, for another great read. All of us had missed the fact that underneath the balloon on the front cover the ship is actually a house until we got to that point in the book and we were all shown the original version of the map that is on the inside cover – 1cm = 1 day's airship travel. Vashti is clearly a talented artist as well as author!The inspiration for the book came from the advert Shackleton placed for Men Wanted though Vashti decided she didn't want it to be "Men" that were wanted. She was also really intrigued by the interview question asking "can you sing?" which demonstrated he was more interested in personality in adversity than in basic skills. Harriet Culpepper is Vashti's homage to Ameila Earhart and Arthur popped into her head with one arm! Vashti's sapient creature would be a lynx or an owl, while as usual Iris stole the show by having a Narwahl badge on her coat (someone else in the group had said their sapient would be a narwhal! Everyone agreed there should be more adventures of Arthur and Maudie and everyone agreed they had thoroughly enjoyed this 1st air-ship adventure. Another thumbs up from our Young Bookworms.
April 

Max and the Millions - Ross Montgomery

Another big hit with Young Bookworms and we just about forgave Ross for being unable to Skype with us. (apparently being at 37000 feet IS an acceptable excuse!)
Josh liked it all
Iris loved all of it
Zoe enjoyed the Book of the Floor
Libby's favourite bit was when she found out who (no spoiler here) was one of the little people.
Ross, in his absence, left a couple of questions for us:
"Max feels very responsible for the people of the Floor. Can you think of any characters who feel responsibility in the book – OR any who don't feel any when they probably should?" Some of the answers were unexpected and it's always great to hear the kids' take on a book.
Luke is responsible for all of the Blue Tribe. Mr Darrow is responsible for the Floor and school (even though he doesn't seem to do a good job of that bit!) Sasha is responsible for the Sparkle Pony Club (again, not necessarily very successfully). Some of the group thought Ivy should be a bit more responsible for helping everyone. With the Bin King it was "all about him" and Mr Pitt really ought to do a better job of looking after the school!
"What would you do if you found a tiny kingdom on your bedroom floor?"
Josh would put them on his shed roof (it's a flat roof) and leave them alone.
Zoe would find out what colour was there.
Iris would move them to safety cos her sister goes in her room sometime. (Iris' mum would probably
scream.)
Libby would ask if they needed any help or where they wanted to go and search around in case
there were any more.
Huge thumbs up from us!
March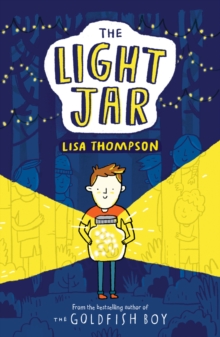 The Light Jar - Lisa Thompson
We were lucky enough to be able to Skype with Lisa and also Chicken and Frog Bookshop in Brentwood and had a great time. Here is a run down of some of the questions that Lisa was asked.
"How do the imaginary friends glow?" it's a book about colour and it just happened. The book is mystical and colourful.
"What is your favourite pizza flavour?" mozzarella, tomato and rocket.
"How did you come up with the character of Gary?" He wasn't obviously horrible but I just build the idea into the book of him being secretly nasty and horrid.
"Who is your favourite Disney character?" Mike from Monster Inc.
"What inspired you to write this book?" A post on Twitter that said there is no such thing as ghosts, just abandoned imaginary friends!

The book was another hit - though to share best bits would probably spoil it for those still to read it. We are very excited that there will be a 3rd book by Lisa in 2019, which we are all looking forward to. We were a bit concerned that Lisa turns corners over in her books as a bookmark, so we have made
some for here, which when they are all gathered we will send off!
February 
In the snowy kingdom of Erkenwald, whales glide between icebergs, wolves hunt on the tundra and polar bears roam the glaciers. But the people of this land aren't so easy to find - because Erkenwald is ruled by an evil Ice Queen and the tribes must stay hidden or risk becoming her prisoners at Winterfang Palace.
Abi Elphinstone was kind enough to join our Book Worms group to talk about Sky Song with us and peppered our discussion with wonderful nuggets of information gleaned during her research for Sky Song. We all agreed that Eska was our favourite character and made a wonderful heroine. Abi went to Mongolia to meet the only Hawk Huntress in the Mongolian Hawk Hunter tribes to research Eska's character. The real life Eska gave Abi a Mongolian fox fur hat - WOW! We were interested to learn that the map formed the initial part of the writing process as Abi used it to map out the story and Eska's journey.
Libby's favourite part of the story is where they meet the Ice Giant and also the part where Eska meets the Narwhale who gives her his tusk which turns out to be the legendary Frost Horn. Did you know that the Vikings used to trade with Narwhale tusks and made people believe they were Unicorn horns?
Josh's Favourite part was the wooden bird, one of Flint's enchanted inventions which Eska uses to reach the stars to unleash the sky song from the Frost Horn.
Flint's wonderful magical inventions were a hit with all of us and one in particular was one of Iris's favourite moments in the book - when Flint uses enchanted feathers to carry away the sound of his whistle and trick the Winterfang Palace Guards.
The Devil's Dance Floor intrigued all of us and we were keen to know how Abi got the idea for that. It turns out The Devil's Dancefloor actually exists in the real world! it is a place in Greenland which has particularly dangerous weather.
Everyone gave Sky Song a double thumbs up! a definite Book Worms favourite.
January, CALEB'S CAB by Sally & Sylvian Chomet

When you encounter a lady smoothing her face in what looks like a waffle iron by the time you reach page 5, I guess anything can happen next! And, so it was with Caleb and his cab. It was weird and wonderful, a young boy who needs a moustache as a disguise in order to be able to drive a taxi while searching for his missing dad. That's before there is any mention of the strange place called Frazingland.
Best bits included the 1st time the taxi skidded and what happened next (which explains quite a bit of the plot) form LIBBY; the cliffhanger ending, which was JOSH'S favourite bit and the bingo hall scene where Caleb was rumbled as a kid, from FAITH. I wasn't sure when I read it what the group would think, but a sigh of relief when this one got a thumbs up too and we can't wait for the next instalment.
December THE POLAR BEAR EXPLORERS' CLUB by Alex Bell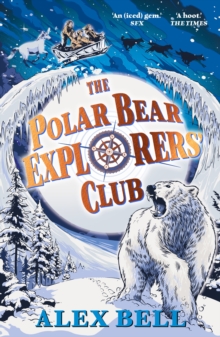 When Stella and three other junior explorers get separated from their expedition can they cross the frozen wilderness and live to tell the tale? Join Stella Starflake Pearl and her three fellow explorers as they trek across the snowy Icelands and come face-to-face with frost fairies, snow queens, outlaw hideouts, unicorns, pygmy dinosaurs and carnivorous cabbages . . .
All the Bookworms enjoyed this exciting adventure story, we enjoyed trying to guess who (or what) Stella is and what her story is. The Frost Fairies were chillingly evil baddies. The ending did feel a bit quick but everyone is keen to carry on the adventure in the next book. Thumbs up all round!

 
November AMELIA FANG AND THE BARBARIC BALL by Laura Ellen Anderson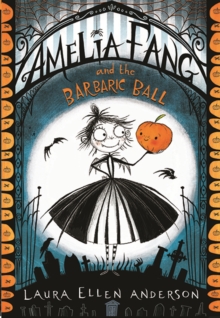 Meet Amelia Fang. She loves playing Goblin Tag, and cuddling her pet pumpkin, Squashy. She hates going to her mum and dad's boring Barbaric Ball. Oh, and one more thing - Amelia is a vampire. This first in a new series of Amelia's abominable adventure by Laura Ellen Anderson seemed like the perfect Halloween read for our Young Bookworms. Happily it was a big hit with all our readers earning a thumbs up all round. Stand-out good bits were - discovering just how big Tagine is! the rescuing of Squashy, and the bit where Grimaldi's scythe turns into a sunflower. Everyone loved the way that the good guys include a ghost called Woo and the Grim Reaper whilst the baddies are the Angel-Kittens of Terror and a Unicorn.....Goblin Slime!
Questions from the Young Bookworms to Laura Ellen Anderson are:-
How did the name 'Barbaric Ball' come about?
How did you get the idea for Tangine?
How did you come with so many cool ideas in one book?
All the character's names have funny links - why 'Tangine'?
Why did they leave it with no clue about Mum?
How did you come up with the idea of having traditional 'goodies' (kittens and unicorns) being 'baddies'?
Are any of the characters based on real people?
Our favourite word was Pa-doing! what is yours? 
October 14th THE UNLIKELY ADVENTURES OF MABEL JONES by Will Mabbitt
Girls, kidnap, pirates, "the deed" followed by eating it! and adventure, adventure, adventure! That alongside a live Skype chat with will made for a great Young Bookworms month. As ever Will was his usual insightful and wacky self, showing us his studio (at the top of a ladder in an old brewery) and his model village (that obviously worship the picture of a 15 year old boy who would later come to write and draw "I Can Only Draw Worms"!
As for the book itself it was a resounding thumbs up with everyone really taking a liking to Mabel Jones.
September 16th THE NEVER ENDING BIRTHDAY by Katie Dale
WARNING: Potential spoilers (but not too much)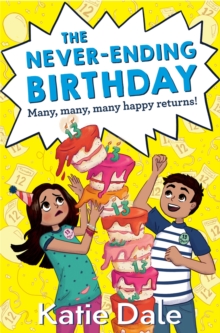 Although it was a bit about football I think I got away with it as most people enjoyed the book. The main best bits were: Zoe really liked Ann (it's quite interesting she tends to like the characters that are not the main cast); everyone was happy to find out that mum wasn't poorly; the parents thought the CPR aspect of the plot was very clever, particularly when school said they would start teaching it; the bit involving the horse racing and being psychic was quite entertaining too. We thought the red card was a very clever touch!
The headings seemed to be a bit tricky when the books was being read out loud.
Thumbs sideways and thumbs up, but overall thumbs up. Thanks Katie.
So we wondered what Katie might have to say in answer to these questions:
I'm so thrilled your book group overall enjoyed THE NEVER-ENDING BIRTHDAY! :)
Did you write the book after someone had had their birthday?
I didn't actually write the book after someone had their birthday, but I was partly inspired by the fact that in my family our birthdays often seem to go on for days! Everyone gets cards etc on their actual birthday, but if we can't all get together on the day we might all have a birthday meal out another day, and a party tea and present hunt another day - it's great! One year I was away for Christmas so we had a whole second Christmas- turkey and tinsel and all - in May! :)
The pedants amongst us mentioned that the birthday did end! Why did you choose this title? We thought "The 4 Days in a Row Birthday"
LOL Titles are always tricky. We went through several, from MANY HAPPY RETURNS to GROUNDHOG BIRTHDAY but felt that THE NEVER-ENDING BIRTHDAY told the reader exactly what the story was about, as all great titles do. If it'd been called THE 4 DAYS IN A ROW BIRTHDAY that would've been a bit of a spoiler about when the repeated days would stop! ;)
How much effort did it take not to make the butterfly effect end too well or too badly?
The butterfly effect aspect took a lot of planning, and actually changed quite a lot as I was writing the book. I wanted the twins to have changed and grown significantly because of their repeated birthdays, and it was important to have a satisfying end so that the whole experience had been worthwhile. I'm a sucker for a happy ending, but it had to be realistic too.
What day would you have that was never ending?
Freddie - Going to Europa Park
Hollie - Never ending eating birthday cake
Zoe - The day I met my best friend.
Sam - Harry Potter World (that's Zoe's mum!)
Rhianna - The day I got my horse, Bubble. 
Katie: If I could have one day that was never-ending it'd be Christmas Day - or maybe Christmas Eve? It's a tough choice. I love having my family all together and the excitement and warmth and magic and goodwill that Christmas brings is really special. As the song says "I WISH IT COULD BE CHRISTMAS EVERY DAY!"
July 29th, STUNT DOUBLE by Tamsin Cooke
WARNING: Spoilers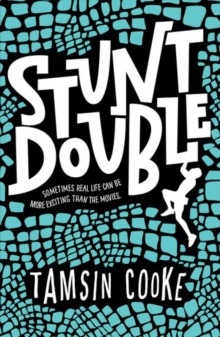 Another Skype chat, this time with Stockton Children's Book of the Year winner, Tamsin Cooke. I'm still pretty certain I get much more excited than the kids do, but the best part of the day was just how many Junior Bookworms seems to have grown by.
Questions included:
Have you ever jumped from a cliff? "No!" (Tamsin showed us some epic videos of cliff jumping, rolling down hillsides and being set on fire! She also gave away the trade secret of using cardboard boxes to cushion the fall during stunts!
Why did the movie need to be cancelled? "It couldn't go ahead as the director was sent to prison!"
How did you find out about Papua New Guinea? "Lots of research on the internet. It was too expensive to travel there, but I have travelled to other places and I used those experiences.
Tamsin was intrigued by the Ropen. There have been claimed sightings of this mythical creature http://cryptidz.wikia.com/wiki/Ropen. Richard got a little confused by the size of an elephant description and ended up getting hung up on Dumbo! (should have googled it earlier lol).
What is the next book called? "Stunt Double Jungle Curse is due out next year". We were given a sneak preview of the cover, it looks cool and we are hoping maybe we can do our next Q&A live!
Is Anna in the next book? "It's too soon for Anna to have recovered but she may be back."
Thanks Tamsin, we are really grateful you gave up part of your Saturday to join us. Though we are a bit concerned that 2 of the group have foot and ankle injuries since reading the book. Coincidence?
July 1st, THE WOLVES OF WILLOUGHBY CHASE by Joan Aiken
A trip down memory lane for Richard, but a tricky trip for the others! This was mainly due to the very formal language that was used, second nature to Richard back in the days of black and white but no so easy to deal with these days! "Bonnie enquired of the attendant who stood before them if her parents were within. Receiving an affirmative answer, she joyfully entered..." perfectly demonstrates this point and is a good example of the games some of our group played. It seem Ms Aiken was a fan of an adverb and never missed the opportunity to eagerly add one in to a sentence!
The group hadn't finished the book quite but did a brilliant job of predicting what would happen next. We also had a new cover design in light of the fact that all of our covers seemed to be different! (see below), what do you think?
Overall another thumbs up, good news.
May 13th WHO LET THE GODS OUT by Maz Evans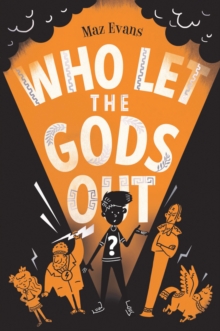 During our meeting to review Maz's book we put together some questions and Maz was kind enough to answer them for us:
Why Greek Gods rather than other Gods or anything else?
I have loved Greek Gods since I was a child, so they were a clear choice for my first book. They are so flawed and naughty – just like me!
Was the bit about dementia from a personal experience of purely research?
Josie's dementia storyline is very personal to me as I cared for two grandparents with dementia. I was a lot older than Elliot and my grandparents were a lot older than Josie, but it is so hard watching someone slip away from themselves.
Why did you make the people fall in love?
Because there can't be enough love in the world! And I think Millicent Tronglebom and Colin will be very happy together…>
How many books have you written?
So far, three: WLTGO, the sequel, SIMPLY THE QUEST and a picture book for little people, ROSIE HARKER, NOSEY PARKER. I'm currently working on the third book in the series, so watch this space. Or a space that will tell you when it's out.
How long did it take to write? How long did it take to edit?
Books don't take me very long to write – about six weeks or so. But editing – that's rather different. WLTGO was edited several times over many years, but SIMPLY THE QUEST took me about eight months to edit.
I find it hard to work with adjectives, do you?
Extremely, tediously, terribly. Oh – actually, those are adverbs. So yes, I obviously do!
Is it easy to choose which person to write in?
What an interesting question. For this series, no – I was always clear I wanted to write in the 3rd person because I wanted my readers to see things that Elliot couldn't. But the new series I'm working up has me debating this very point…
Can you run at 21mph?
I can run a mile in 21 hours.
How can in Find a way to finish my stories before I get bored?
If you're bored, I don't think you're writing the right story. Stories are hard work, but you should want to tell them. If you don't, have a think how you can make it more interesting. If you're not excited, how will your readers feel?
Do you like reading? If, yes what?
Yes, yes, yes – although I don't get nearly as much time to read as I would like. I read a lot of children's fiction as a lot of my friends are authors and there is some wonderful writing around. But I also love historical fiction and funny books too. I don't think it matters what you read, but you should try to do as much of it as possible.

Brilliant answers Maz, thanks for that, and well done to our Young Bookworms for some awesome questions too.
April 15th GOLDFISH BOY by Lisa Thompson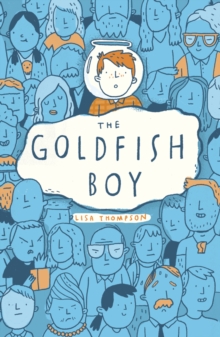 Easter Saturday, a busy time, but not for our budding Young Bookworms, who joined us for a live via Skype chat with author Lisa Thompson. The book  was enjoyed on the whole, though 1 person wondered why the book continued after the mystery had been solved. Lisa's answer was a good one (but to talk about it here would be a bit of a spoiler)! We also talk about the idea of red herrings (what do you think?) and one of the parents mentioned how brilliantly it had dealt with an awful lots of issues affecting children of today, (from loss to friendships, to mental health) and at the same time the tone was still appropriately light-hearted.
Lisa, who used to "make cups of tea and coffee for famous people" for a living while working at BBC radio, also shared with us lots of fun about what it's like to be an author (it's mainly in the editing apparently) and shared with us some cool author secrets. The YA aimed USA version has a much darker cover; while the Spanish title is The Incident of the Boy in the Fish Tank, as our title doesn't translate.
The USA cover.
DID YOU KNOW?: all of the characters on the cover are suspects - when you have finished it see if you can work out who is who.
It was really great to be able to chat with Lisa, it's always such a privilege to be able to talk to them and we are thrilled when they want to come and see us live!
Thanks for a great book, thanks for taking the time to chat with us and we are all really looking forward to seeing what comes next.
February saw the launch of our latest book groups, with the 1st one being our Young Bookworms. 1st book on the list was Radio Boy by Christian O'Connell.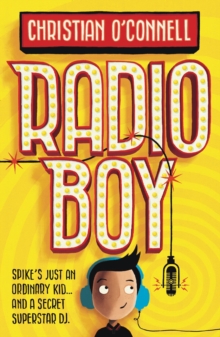 Things don't seem to be going well for Spike when he gets sacked from Hospital Radio on page 1, but then the school announces they are launching a radio station of their own, the perfect opportunity for Spike?