Next Teen Readers Meeting
Saturday 27th October 3pm
Book to be discussed - Scythe by Neal Shusterman
Described as 'the true successor to The Hunger Games' Scythe is a dark, gripping and witty thriller in which the only thing humanity has control over is death. In a world where disease, war and crime have been eliminated, the only way to die is to be randomly killed ("gleaned") by professional scythes.

Citra and Rowan are teenagers who have been selected to be scythes' apprentices, and despite wanting nothing to do with the vocation, they must learn the art of killing and understand the necessity of what they do. Only one of them will be chosen as a scythe's apprentice and as Citra and Rowan come up against a terrifyingly corrupt Scythedom, it becomes clear that the winning apprentice's first task will be to glean the loser.
September
Moonrise - Sarah Crossan
You hear?Cos people are gonna be telling youall kinds of lies. I need you to know the truth. Joe hasn't seen his brother for ten years, and it's for the most brutal of reasons.

Ed is on death row. But now Ed's execution date has been set, and Joe is determined to spend those last weeks with him, no matter what other people think ... From one-time winner and two-time Carnegie Medal shortlisted author Sarah Crossan, this poignant, stirring, huge-hearted novel asks big questions.

What value do you place on life? What can you forgive? And just how do you say goodbye?
Neverworld Wake - Marisha Pessil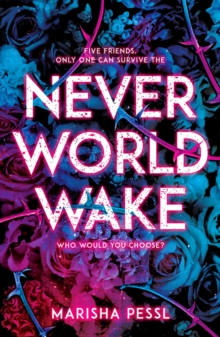 After a night out, they narrowly avoid a collision with a car on a deserted road. Back at the mansion belonging to one of the girls, a storm rages and a mysterious man knocks on the door, announcing something world-shattering. The friends must make a choice: one of them will live, and the rest will die.
Final 7 by Kerry Drewery
The newest high-octane addition to the thrilling Cell 7 series Martha and Isaac have escaped, but are now on the run - the government has branded them rebels and a danger to the public. Despite the rewards being offered for turning them in, Martha and her friends are safe in The Rises, the area of the city full of the poor and the powerless. But then the Prime Minister orders a wall to be built. Is it to keep those inside safe - or is it to imprison them? Martha needs to act, and to act fast, in a tale of breathtaking treachery that reaches right to the heart of those in charge... 
We will be skyping with Kerry!
The Fandom - Anna Day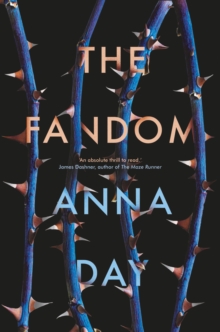 A huge thanks to Anna Day for giving up part of a glorious Saturday to join us via Skype to discuss her debut novel The Fandom. Discussion started with the cover, which I had not really thought much about whilst reading, but it does link nicely with Thorn and Rose (obviously) and Anna also pointed out it looked a bit like prison bars. We were intrigued by the Big Ideas Competition that led to Anna writing the book, and thought it was a great opportunity and idea.  As Anna says in her acknowledgements it seems to have worked out perfectly that Angela McCann entered the competition and allowed Anna to write this 1st novel. Anna had the idea to write a medieval fantasy novel and it fit very well with the outline idea and gave Anna free reign to have her characters enter the actual plot. As we had all finished the book much of the chat would involve spoilers so I will avoid those, but we did discuss a few ideas such as repeated reference to how long left and the idea of it giving the feel of a ticking clock and urgency. Similarly, we liked the concept of the loop that exists (we can't say any more until you've read it), but it really does make sense that it exists!
 Whilst it was great to meet Anna and really good to get an insight into writing and the novel, the start of the show was Anna's son Charlie! He joined us and chatted briefly, but the best bit was when he asked us "why have you got mummy's book?" We waved all of our copies at him, but that didn't placate him much! Anna told us he hasn't got his head around the fact there is more than 1 of mummy's book and asks for it back wherever he see it. In fact, he chased someone round a bookshop one day and demanded the complete stranger give mummy her book back! A little embarrassing for Anna perhaps but we all though it quite amusing.
 Not a clean sweep of thumbs up this time, but still the majority up for this unusual take on YA fantasy. Thanks again, Anna and see you soon.
The Exact Opposite Of Okay - Laura Steven 
The Exact Opposite of Okay
Given the theme of the book and the choice of some 'fruitier' language I was really impressed at how mature and wide ranging the discussion on this book was.
The group felt that none of it was over the top and given the ambitions of the protagonist the mood of the book was appropriate throughout. The theme did lead to some interesting discussion regarding gender stereotypes at school, many of which will be completely unintended but nonetheless still frustrating.
The use of phrases such as "I need a strong boy to help with …" or "Young lady…" and even the way pupils address Sir and Miss frustrated the group immensely especially given who it was, in some instances, who were using these phrases.
The book (which in all honesty took a bit of a back seat during the discussion) got a thumbs up all round, and although it is definitely aimed at older teens (it perhaps should have one of those"PARENTAL ADVISORY EXPLICIT CONTENT" stickers) it is a very relevant and important read, maybe not for us oldies who can't pedal their phone properly, but certainly for a generation who takephotos of everything!
 The Truth and Lies of Ella Black
Ella Black seems to live the life most other seventeen-year-olds would kill for . . .
Until one day, telling her nothing, her parents whisk her off to Rio de Janeiro. Determined to find out why, Ella takes her chance and searches through their things. And realises her life has been a lie. Her mother and father aren't hers at all. Unable to comprehend the truth, Ella runs away, to the one place they'll never think to look - the favelas.But there she learns a terrible secret - the truth about her real parents and their past.  And the truth about a mother, desperate for a daughter taken from her seventeen years ago . . .
The first thing we noted was the clever cover and the fact that Ella's name had been crossed out – possibly referring to a state of mind!
 From the moment she left school until she started teaching the story grew in pace, though the group did seem a little obsessed with Humphry! They also thought the ending took things a step too far, but generally the group enjoyed the book and the story.
 The group wanted to know:
 Is this a one-off stand alone novel?
 Was the Ella/Bella backstory in place before the plot?
Where did the idea of 2 personalities come from?
Why Rio and why the Favelas?
Could we have the recipe for the strawberry and watermelon drink?
Below Zero - Dan Smith
We love a Skype book review and this one was no exception. We were slightly low on numbers but it was an interesting session nonetheless. Stephen King fan and Stocktonian Dan Smith (well spotted Dan M) joined us to discuss his new teen read Below Zero. The group were split as to which half of the book they enjoyed most - one of us enjoyed being contained in the mystery and discovering what was going on at the same time as Zak and his family, while others preferred the pace of the second half - one of the great things about book groups, always different opinions and reasons. Dan said the 1st half needed to be a slower pace as the scene was being set, while he agreed to handbrake came off for the second half with the action. We had a good and interesting discussion about the main plot twist of the book and were intrigued to know that it wasn't Dan's original choice. But then he got his own back on the cover as he thought the original choice was a massive spoiler alert! I thought that this was nailed on to be part of a series, while the rest of the group enjoyed the ambiguity and think that we could perhaps see more of an interesting character in other books. For those of you who have read Boy X you will know who we mean as they appear here too. Dan mentioned that one of the main plot elements of YA fiction is "to get rid of the parents as quickly as possible", but he enjoyed breaking that rule here and we think he did it very well.
Another thumbs up from our group and a huge thumbs up and thanks to Dan for his time on a Saturday especially the start of The 6 Nations!
The Inexplicable Logic of my Life - Benjamin Alire Saenz
A warmly humane look at universal questions of belonging. This book is in the form of a journal written by Sal, who was comfortable in his settled life with with his adoptive gay father, their loving Mexican American family, and his best friend, Samantha. But it's senior year, and suddenly Sal is throwing punches, questioning everything, and realizing he no longer knows himself. If Sal's not who he thought he was, who is he? Some of the group were put off by the fact that it is written as a journal - but actually found that it was very easy to read and gives a very relatable story of Sal's life. This a very character driven book, there is no overarching plot, journey or quest, but just the story of three friends navigating the challenges that life pitches at young people. Some of the group found the lack of plot action frustrating, but the book is very easy to read. A favourite part of the book were the sections titled WFTD - word for the day - where the friends discuss words they've encountered that day (faggot, funeral etc). Not an all time favourite with the group but still earned a thumbs up.
MONSTER by Michael Grant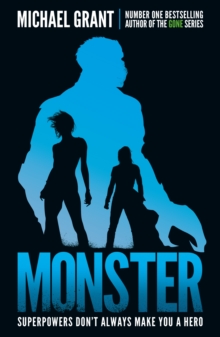 MICHAEL GRANT'S ACTION-PACKED AND MUCH ANTICIPATED NEW BOOK, SET IN THE AFTERMATH OF THE BESTSELLING GONE SERIES. This is the first of a new, action packed trilogy. We felt you didn't need to read the GONE series first to enjoy this book, but if you have read the GONE series - this book is a must read! Everyone enjoyed this fast paced book. The writing has a very 'filmic' visual quality particularly the fight scenes. There are lots of interesting and well developed characters all of whom have more than enough drama going on in their lives without adding in the invasion of a mutating alien virus. Some of the group thought there was too much flipping between all the characters which broke up the flow of the story too much. Some of us questioned the need for every character to have a flaw, or issue they were dealing with as well - too clichéd with too much personal life drama - it would have been nice just to have a few more 'normal' characters. However, the whole group did acknowledge their favourite characters as being Cruz and Shade. Shade is convinced she was to blame for her mother's death whilst trying to contain the mutated monsters during the first series, and Cruz is struggling with her identity as a trans-gender teenager. Their evolving relationship is definitely something that is going to be an important backdrop throughout the trilogy. Fast paced, action packed and definitely worth reading - the group gave this a 7/10  
MOONDUST by Gemma Fowler
COAL MEETS SCI-FI! We were thrilled to be able to virtually meet Gemma and discuss Moondust via Skype. Gemma drew on her childhood, growing up in Mansfield for the mining elements of the book but she didn't really realise exactly that it was happening at the time. The heavy duty scenes were based on events that actually happened as well. She also found that she identified a great deal with the heroine of the piece, Aggie. Gemma finds that she need to be able to connect with everyone that she writes about which makes bad guys/girls a bit tricky!
We all proclaimed that the twist came from out of the blue which really pleased Gemma because that's what she is after in a book (makes sense I guess).
MILD SPOLIER ALERT - not everyone dies, which disappointed Dan slightly, but he was even more disappointed when he was told that in the 1st draft everyone was killed off! 
The next book is based around space junk, recycling and a bit of AI as well. We can't wait for it and hopefully we can chat again when it is published.
DAY 7 by Kerry Drewery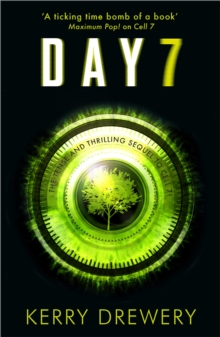 Saturday July 22nd
BLAME by Simon Mayo  WARNING: Spoilers.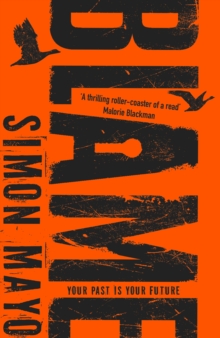 A great afternoon's discussion via Twitter with Simon Mayo, involving plenty of #s!
Q1 Why do the children have to pay for Heritage Crime? "The oldest child has to 'pay for it'. The children can be any age though. someone needs to pay the price, WE NEED SOMEONE TO BLAME!"
Q2 Are there plans for a Blame2? "I'd love to. It's not next there's an adult book out in April. I know what I'd like to write about for Blame 2. It would be more to do with Ant and Mattie."
Q3 Grey became the ultra bad guy. Why move form blaming the government to blaming him so much? "He was the personification of the system so he represented everything there was to hate about the everything. He needed to get the strap really."
Q3 (someone can't count, oops) So, Blame 2 would that be forward and the next bit or go back and find out more about their mum and dad. "Forward. Always forward I think. Ant with the bug groups in Germany would be fun. By going forward we'd still find out more about mum and dad."
Q4 There were some pretty gruesome moments. Was it your intention to be that dark from the outset? "But the toughest scenes are the state-enforced punishments I think. It's the reality of the Heritage crime world. You can't portray a prison riot without it being pretty tough."
Q5 Last Question: What inspired to become a writer and what book would you take to your Desert Island? "It was my son getting interested in science and me discovering element hunting. Those 2 together became Itch. Probably His Dark Materials."
A brilliant afternoon, and a huge thanks to Simon Mayo for being willing to give up part of his Saturday afternoon to join us "Best book I have ever read" was the last comment from the Teen Readers on the subject!
Saturday 1st July
NEVERWHERE by Neil Gaiman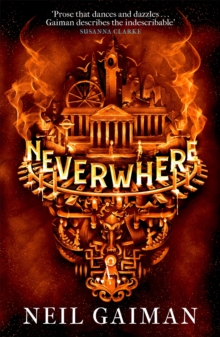 The bizarre world of London Below with Black Friars, The Angel, Islington and Earl's Court was our latest voyage of discovery for Teen Readers Book Group. We had more new members taking the group up to 5. It wasn't received with open arms "it didn't grip me", but there were lots of positive things that came out of the meeting. Not everyone finished it and Rona, who did said it was quite confusing, especially the concept or Door (a different name might have helped with someone who had the power to open doors!).
"I enjoyed reading a different style of book". "When I got confused, I tried to find a way to help, but the blurb didn't help". I think these 2 comments are great, it maybe wasn't the sort of book they wanted to read but they really wanted to persevere.
Dan said "Neil Gaiman is my favourite author and I love Neverwhere. Characters are well written, suspense build well, but a predictable ending. Altogether great read."
A tricky book for 3 of our book group to have as their 1st attempt, but well done for having a go and a thumbs sideways for Neverwhere.
If we could ask Mr Gaiman some questions:
"If you could do just 1 job what would it be and why?"
"What was your inspiration for Neverwhere?"
"What made you want to be a writer?"
What is your favourite book that you wrote and overall?
Saturday 20th May
THIRTEEN & SPIDERS by Tom Hoyle
Our latest meeting saw 2 new members (who we hope we haven't scared off) as we reviewed the 1st two books by Tom Hoyle. Mr Hoyle is a headteacher somewhere in London and it isn't his real name! All 3 of us tried to track him down, but with no success, so we just had to talk about it instead. Dan and Ciara enjoyed both books because they read like an action film might do in its description of what was happening.
What they enjoyed about Thirteen was the bad guy not really being sure why he was doing what he was sent to do, which also happened a bit with Bolleskine in the second book.
Thirteen was enjoyed because of its originality while Spiders was better when it came to the action. Dan said he enjoyed the second one because he is "a sucker for Bond!" Both of them recommended the books to our new member and also said they would read the next book.
"If you enjoy lots of action, you'll love it!" Ciara.  "It's got a bit of everything for everyone" Dan
Overall a thumbs up from everyone.
Saturday 8th April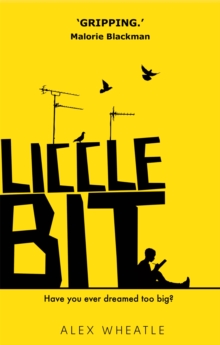 Lemar's mum is permanently hassled, his sister a frustrated single mum and his dad moved out years ago. Lemar, or Liccle Bit, wishes he could do something - anything! - to make life better. When Venetia starts paying Liccle Bit attention, he secretly hopes he's on a fast track to a first date. Unfortunately, as a new gang war breaks out, he finds himself on a fast track to something much more sinister. South Crongton's notorious gang leader has taken an interest in him. Before he knows what's happening, he finds himself running errands. But when he hears about a killing on the estate, Liccle Bit is forced to question his choices. How can he possibly put things right?
An interesting insight into the culture of gangs and inner city struggles. The group felt that it was mainly held together by the colloquial language which at the same time was a bit tricky to get their heads round at the beginning.
One was interested in finding out about more in the series, but overall our first sideways thumb for this one.
Saturday 18th February
Our 1st Teen Readers review was CELL 7 by Kerry Drewery.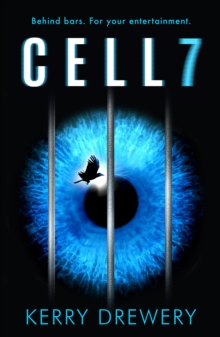 Sixteen-year-old Martha Honeydew was found holding a gun, standing over the body. NOW JUSTICE MUST PREVAIL. The general public will decide whether Martha is innocent or guilty by viewing daily episodes of the hugely popular TV show Death is Justice, the only TV show that gives the power of life and death decisions - all for the price of a premium rate phone call.
We were delighted that Kerry could join us for Skype for our 1st group meeting and we had 30 minutes of excellent discussion about what it was that inspired the story (an interest in the repealing of the death penalty and what the in-natural progression might be if that hadn't happened) and life as an author (the end of the interview saw Kerry put a DVD on to help distract her from the ironing she was about to do!)
Kerry also told us of the release of her next book (SPOILER ALERT, don't look into this until after you have finished this one!) and we may be able to speak to Kerry again when that is out in September!